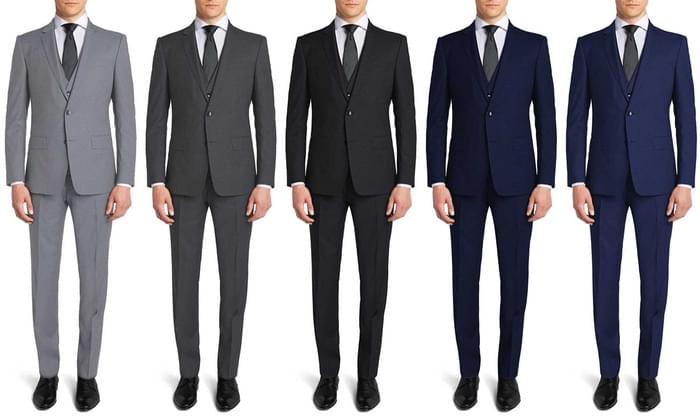 Trim Fit suits: Today slim is the new in when it comes men's suits. Trim men's suits are designed with all the excess fabric cut and the suit is cut to the exact body measurements thus gives any man wearing a trim fit suit a more modern and elegant look. The trim fit suit is designed to flatter the man's best body features. The trim men's suits work particular well for men with leanly built body types, however, any man can look good in a trim fit suit, and they just have to get their measurement right.
---
What to consider when buying a trim fit?
Take accurate body measurements
To buy the best possible trim suit fit, it is important to have all your body measures taken correctly. This is mainly because trim fit suits leave alight or no roomfor size adjustment especially if you end up buying a smaller trim fit suit. Measurements should be taken often if it is possible every time you need to buy a new trim fit suit.
How to measure yourself
All you need is a tape measure. You can comfortably take your body measurements with just the help of one person at home. Then buy a trim fit suit online at fashionsuitoutlet.com.
To ensure you get the suit fit right, you need to get correct measurements for:
The trim suit jacket
i. The shoulders – The shoulders should be measured up to the point when the arm and the shoulder connect. This will help you avoid buying a smaller jacket that will appear uncomfortable when worn or a bigger jacket that will hang loosely on your shoulders.
ii. Jacket sleeve length – The jacket sleeve length should be long enough to cover at least 2 to 3 inches of the cuff. Any jacket where the length is above the cuff is too short and if it covers the entire cuff it is too long.
iii. Jacket body length – The correct fit should cover the waist and the length should not be too long that you have problems pocketing.
iv. Waist – The waist measurement ensures you get a jacket that easily closed and open with appearing strained/too tight for smaller jackets or loosely closed meaning it's a size bigger.
The trim suit trouser
Although the design of the trouser is largely determined by your taste and preference. The size of the hips and the thigh width should be measured to be wide enough to be comfortable to walk in without appearing to be too tight or too loose.
The correct trouser length should sit nicely on top of the shoes, creating a soft crease at the front and should never touch the ground at the back.
The required trouser measurements
Fabric
The occasion and the weather conditions should help you decide on the fabric for the trim fit suit. Cotton, wool, and linen are some of the most common suit fabrics.
Cotton & wool
Cotton & wool are definitely the most popular suit fabric choice. This is mainly because cotton & wool are naturally breathable fabrics (i.e. it is able to keep you warm on cold days and keeps you cool on warm days).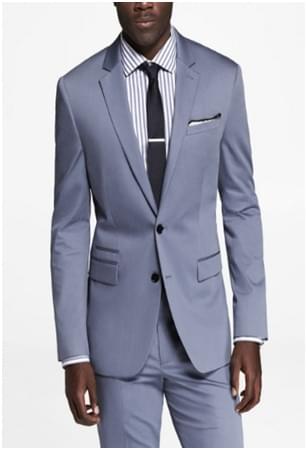 Linen
Linen is a lightweight fabric which makes it the perfect summer suit fabric. The linen fabric will keep you cool throughout the summer hot weather. However, the linen suit is known to stain and crease easily plus linen is an expensive fabric.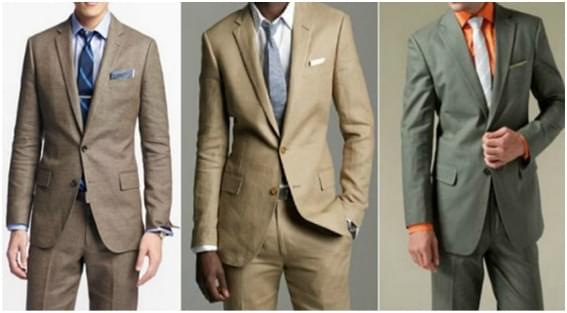 Suit Color
The color of the trim fit suit should be determined by the occasion the suit is to be worn at. For official trim fit suits go with navy, blue, and gray or black. For casual occasions and events,buy a trim fit suit of either tan/khaki or brightly colored suits.
Shoe color
You need to ensure you wear the correct color of shoes to compliment your trim fit suit. Miss-matching the shoe color with the suit color will take away the elegant look.
For navy blue suits - wear either black, brown or red shoe.
Medium and light gray suits - wear either black, brown or red shoe.
Brown suits - wear brown or red shoes and never wear black shoes.
Charcoal gray suits - wear black or burgundy shoes, never wear brown shoes.
Black suits - should only be worn with black's shoes.
---
Where do you buy the best trim fit suits?
Today, thanks to the internet and e-commerce you can easily shop for the best trim men's suit online. Online trim suit outlets offer you a variety of suit fits and you get to choose from all the different suit manufacturers. Online trim suit outlet like fashionsuitoutlet.com offer their customer high quality trim men's suits at the cheapest possible prices. Fashionsuitoutlet.com is one of the most reliable online trim suit outlets available on the internet.
---
Why should you buy a trim suit at fashion suit outlet?
i. We offer free ground shipping in the U.S. for any orders over $100.
ii. We at fashion suit outlet offer a 90 days return policy with full money back guarantee – no questions asked!
iii. For all new customers at fashion suit outlet we offer a 10% discount on their first order.
iv. At fashion suit outlet you will get the best possible prices for stylish and fashion forward linen suits.
v. We provide clear fabric descriptions to ease the worry of paying for a suit with a fabric you won't like.