When you're looking at different options for dress shirts, there are many things to take into consideration. The first thing that most people notice is the color. While this is obviously an important deciding factor, there are many other elements of style that should be considered.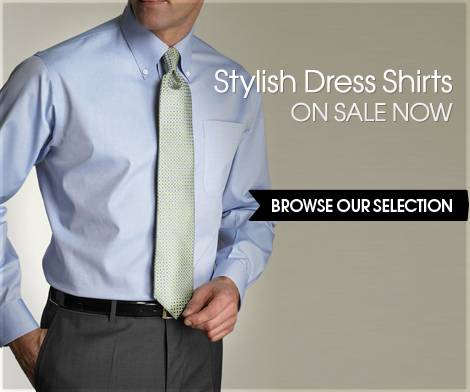 Collars
The first thing you'll want to consider is the collar of a shirt. Your goal when selecting the type of collar for your designer shirts is to buy pieces that are flattering to the shape of your face. There are several different types of collars available and several variations within those types.
Straight-point. These type of dress shirts are the most common. They have a V-shaped point at the color and are flattering to most shapes of faces.
Button-down. This option is less formal than your other options. Typically, this type of shirt will be made with a softer fabric and will not be pressed as much as other choices.
Spread. Flattering all types of faces, except the roundest, this option has many different tips that will add an element of drama to your dress shirts.
Tab. If you have a long neck, this option with a higher collar and smaller spread is the best option for you.
Cuffs
Much like collars, dress shirts come in a variety of cuffing options. The basic types are as follows :
Barrel. Barrel cuffs are also called button cuffs for obvious reasons – they have at least one button. If there are additional buttons, they can be used to customize the fit.
French. Also called double cuffs, this option is widely considered to be more formal than dress shirts with barrel cuffs. These types of cuffs are typically closed with cuff link or silk knot.
Convertible. Just as it's name implies, dress shirts with convertible cuffs can be closed with either a button or a cuff link. These are a great option for those who need an all-purpose shirt.
Fabrics
Of course there are many different types of fabric used in dress shirts. You want to find a fabric that is both professional and comfortable for you to wear. Following are the basic options :
Cotton. The best thing about cotton dress shirts is their ability to breathe. This can help keep you cooler as the days get sunnier. Cotton also holds dye well, so it's a great option if you're choosing dress shirts with a bright color or pattern.
Cotton blends. Much like it's name implies, this type of fabric is a combination of cotton and another fabric. Purchasing a shirt made with a cotton blend gets you the best of both fabrics. For example, one of the most common blends is a Cotton-Lycra blend. This gives you the cool breathable cotton but adds the extra stretch of Lycra.
Linen. While these types of fabrics breathe well, they are also prone to wrinkling. These aren't the best options for a low maintenance shirt but for those who want to look stylish in any situation they can be a great option.
The best idea when considering options in dress shirts online is to visit a site that offers a wide variety. This will allow you to browse what's available and become comfortable with the options. One site I often see recommended is www.fashionsuitoutlet.com. This site offers a wide variety at great prices.