When choosing amongst the various types of business suits available, there are many things to consider, including the jacket style, lapels and fabric. The best idea is typically to start out at an online retailer that has a wide variety of options to choose from, such as www.fashionsuitoutlet.com. No matter where you shop though, it's a good idea to understand what your choices are. Following is a guide to deciding which options are best for you.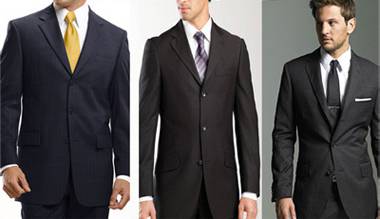 The Different Options in Jacket Style
There are several jacket options available for men's business suits. When you're deciding which is best for you, you'll want to consider your age, body size and personal style to make sure you're making a choice that you'll be happy with. There are two basic types of business suits:
Double-breasted suits. These business suits are the best choice for most people. The exceptions are younger men and larger men. A double breasted suit is the classic choice and never goes out of style. Be sure when wearing this type of suit that you're keeping all of your buttons buttoned.
Single-breasted suits. This option can work for anyone, of any body size and age. When choosing these business suits you'll need to consider the button options as well.
One button. These are not very common in today's business suits. If you're going for a vintage look, this can be a good choice. Otherwise, you're better off choosing a more traditional option.
Two buttons. This is the most classic type and looks good on everyone. Typically, you should only button the top button.
Three buttons. 3 button suits have been becoming increasingly popular in the last few years. If you choose this option, be sure to either button only the top two or only the middle button.
Four or more buttons. Business suits with four or more buttons are a very fashion forward and unique option. If you think you fit into those categories, go ahead and give this style a shot. However, it's a good idea to have a more traditional option in your wardrobe as well.
Lapel Options
The size of the lapel will change with the current fashion trends. Right now, you'll see most business suits sporting a 3 or 4 inch lapel, as they are the most popular.Single breasted suits also tend to have peaks or notches in the lapel. These are traditional accents and will withstand changing trends and styles.
Choosing the Right Fabric
The most common fabric that's used in business mens suits is wool. It can be made in a variety of weights to be appropriate for different weather climates. It's also the least likely to wrinkle and is a soft and comfortable fabric to wear. Cotton business suits are also an option and tend to work better in warmer climates as the fabric is thinner and better able to breathe.
When you're looking for the best business suits out there, you want to make sure you know exactly what your options are. Hopefully this guide has helped you to understand what those options are and which type and style of suit would work best for you.